Grilled Rosemary & Garlic Baby Potatoes! Summer is here and it's way to hot to be turning on the oven! The Grill is where it is at! The perfect thing about potatoes is that…. they go with almost anything! I love to eat them with Swizzle's Grilled Steak, Susan's Grilled Salmon or any protein that you throw on the grill (portobello mushroom included for you vegetarian folk!)
NUTRITION
This recipe makes 4 servings. Each serving has 157 calories, 3g fat, 26g carbs and 4g of protein. Not too shabby for a side! You can also opt for less potatoes to reduce all stats above. Remember everything in moderation and you will be good to go!
SUPER EASY & DELICIOUS
These grilled potatoes are super easy to make and clean up! They are crispy on the outside and soft on the inside creating that perfect potato without any of the hassle.  No cutting, dicing, cubing… just toss all ingredients together in a mixing bowl and toss on the grill in a vegetable pan! Literally 5 minutes prep and about 20 on the grill and voila you have the perfect side to accompany whatever protein you are cheffin up!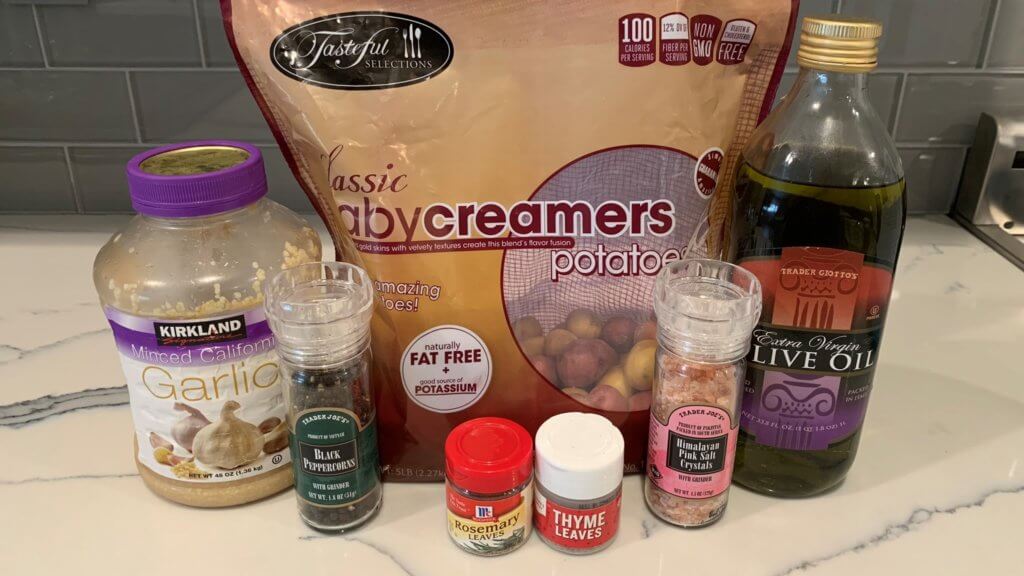 WHERE TO BUY
As you can see by the photo above, I have a hodgepodge of items! I bought the baby potatoes and garlic at Costco, the olive oil, salt & pepper at Trader Joes and the spices at Von's and Target. However you can find all of these items at any of the stores I just mentioned (maybe excluding Target).
PRODUCTS I USE TO MAKE THIS RECIPE
Honestly you can use whatever grill, bowl and pan you have at home to cook these delicious potatoes. I have the Weber Genesis Grill which is expensive but kicks ass! Click here to view on Amazon and here to view on Home Depot. I also use the OXO mixing bowls (click here to view) that I got for my engagement 7 years ago and they look brandy new! And finally I bought this Weber Vegetable Grill pan (click here to view) on Amazon and it is a great size and price!
WHAT MORE DO YOU NEED?
It's summer, it's hot, this recipe is easy and delicious! It really is fool proof! Grill up some Rosemary & Garlic Baby potatoes today! Do you need more specifics on what to cook with these yummy potatoes? Well ok then! Here are some other Grill Recipes to try with these potatoes (click each recipe title to view) Swizzles Grilled Steak,  Susan's Salmon, Lime Chili Salmon, Honey Lemon Salmon, Lemon Garlic Tilapia, Marinated Tri-Tip and so much more!
Grilled Rosemary & Garlic Baby Potatoes
Keyword:
baby potatoes, garlic potatoes, grilled potatoes, rosemary potatoes
Ingredients
1.5

lbs

baby potatoes

1

tbsp

olive oil

1/2

tbsp

minced garlic

1/2

tsp

cracked sea salt

1/2

tsp

cracked pepper

1

tsp

dry rosemary

1/4

tsp

dry thyme
Instructions
preheat grill to 375-400 degrees.

add all ingredients to a medium mixing bowl. stir.

spray vegetable grill pan with cooking spray. add contents of mixing bowl to vegetable pan.

place vegetable grill pan on the grill for approximately 20 minutes or until golden brown and have reached your desired tenderness
Recipe Notes
157 calories
3g fat
26g carbs
4g protein