So we went to the Del Mar County Fair recently and I got the same thing as last year. Chicken Charlie's Pineapple Express Bowl and I was in Heaven! I got the Teriyaki Chicken BUT when I got home I knew immediately that I wanted to recreate it using shrimp! So I now present to you this delicious Shrimp & Pineapple bowl recipe inspired by Chicken Charlie himself!
NUTRITION
Per serving the complete recipe (with quinoa, avocado & onions) has 304 Calories, 10g fat, 33g carbs and 19g protein. If you want to be a rebel and just eat the shrimp and pineapple solo the stats are: 184 calories, 5.5g fat, 16g carbs and 15g protein.
INGREDIENT OPTIONS
There are so many ways you can serve this and it all depends on your preference and amount of time that you have. I always use Trader Joe's Tricolor Quinoa but you can use whatever base your little heart desires. White rice, regular quinoa, Bulgar, skies the limit! If you are short on time you can also use canned pineapple slices and just cut into bite size pieces instead of using a fresh pineapple. And you can always buy your shrimp peeled so you don't have to take the shells off. This will save you about 10 minutes off the prep time by utilizing both of these alternatives.
SERVE IN THE PINEAPPLE??
Chicken Charlie serves his fancy feast in a hallowed out pineapple. You can certainly do this as well however I chose to just serve it in a regular 'ol bowl. Why? Ain't nobody got time for that! I am just a regular 'ol gal and I just wanted to cook this and devour it. I wasn't looking for any fancy presentation, however if you are cooking this for a dinner party, you may just want to serve it in the pineapple to really wow your guests!
PICKLED ONIONS
This recipe includes a quick version of pickled onions. You can eliminate them altogether or give your bowl a bit of flair by including them. If you end up using canned pineapple I would add some of the juice from the pineapple can into the bowl with the onions. It will speed up the pickling process and give you a little extra kick of pineapple!
FANCY OR NAH?
This dish looks fancy but it is honestly super easy! Another perk is that you are only using the broiler so it doesn't heat up your house! SCORE! It literally takes 30 minutes or even LESS if you cut some corners and will have you coming back for more! Don't say I didn't warn you!
If you like this recipe try others like it by clicking each of the following titles! Shrimp & Pineapple Tacos, Honey Garlic Shrimp, Shrimp & Veggie Stir Fry!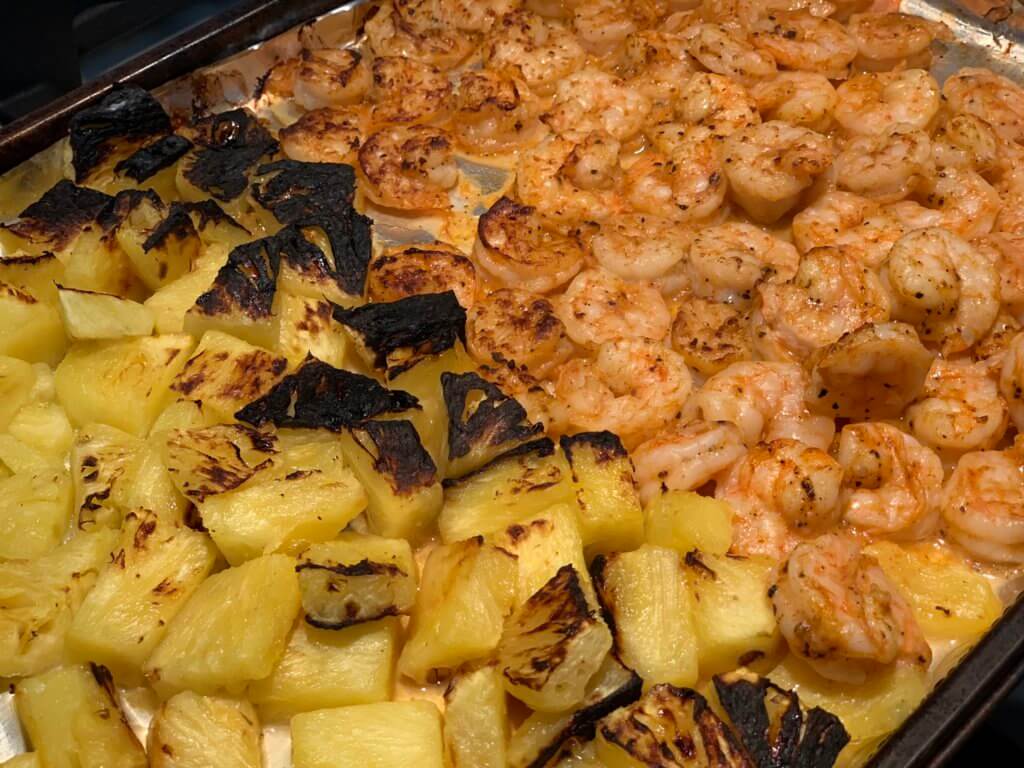 Products I love to use when making this dish:
Shrimp, Pineapple & Rice Bowl (Chicken Charlie's Copy)
Cuisine:
American, Mexican
Keyword:
chicken charlies, shrimp and pineapple, shrimp bowl
Ingredients
1.5

lbs

shrimp, peeled & deveined

(31-40 size)

1

small pineapple, cored and cubed OR 1 can pineapple slices cubed

2

tbsp

olive oil, divided

1

medium

red onion, sliced

(about 6 oz)

1/4

cup

fresh lime juice

(approx 2 limes)

pinch

sugar

pinch

salt

1

tbsp

sriracha

salt and pepper

(to taste)
TOPPINGS (OPTIONAL)
avocado sliced

lime wedges
Instructions
make quinoa according to package instructions

toss sliced onion, lime juice, sugar and salt in a small tupperware container. cover, shake and set aside

place rack on the highest position in the oven and turn broiler on. in a medium mixing bowl, toss pineapple with 1 tbsp olive oil.

spread pineapple in a single layer on half of a large baking sheet and broil for approximately 8 minutes. (make sure to watch as things tend to burn quickly in the broiler)

toss shrimp, sriracha and 1 tbsp olive oil in a mixing bowl until shrimp are evenly coated.

remove baking sheet from broiler and flip pineapple. add shrimp to other half of baking sheet and broil for 2 minutes. after 2 minutes flip shrimp (don't touch pineapple) and broil for another 1-2. (if your shrimp are springy to the touch they are done!)

transfer shrimp and pineapple to a large bowl and season with salt and pepper (to taste) and the liquid from onion tupperware.

serve shrimp/pineapple over quinoa and top with onions and avocado! Enjoy!
Recipe Notes
with avocado & quinoa
WITHOUT avocado & quinoa